> Day 21: A recipe
My idea of cooking involves following the instructions on the back of sauce bottles or making some tooth-achingly sweet desserts of various description. So here's a recipe for Banoffee pie which I quite enjoy making (and devouring) -
Base:
115g butter
250g biscuits
½ cup coconut
Ingredients:
400g can of caramel
2 large bananas (460g)
300ml thickened cream
Method:
1. Crush biscuits in food processor and transfer to large bowl - crush any large pieces that rise to the top.
2. Mix in half of the coconut.
3. Melt butter and mix with the biscuits until all crumbs are coated
4. Press the mixture into the base and sides of a loose-bottomed cake tin. You can refrigerate it if you like to help it set, but I am far too impatient and usually just pop it in when it's all done.
5. Whip cream thickly
6. When the base has set, pour caramel over the base, spreading evenly
7. Thinly slice the bananas and spread over the caramel
8. Pipe the whipped cream over the bananas
9. Garnish by sprinkling the remaining coconut over the cream, and dusting with chocolate shavings/powder.
10. Refrigerate for about an hour, hour and a half
Serving suggestion: drizzle with strawberry ice-cream topping and serve with scoop of ice-cream.
So, so easy to make.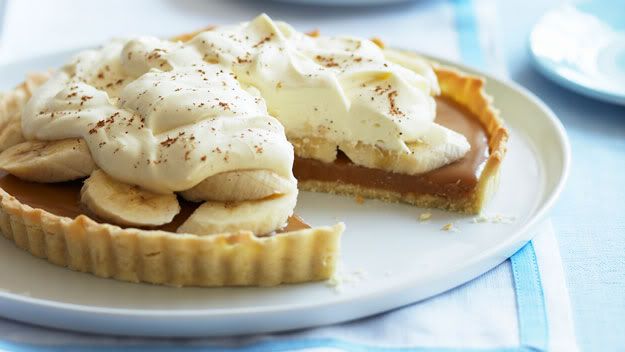 Music:
Archers - Brand New
Mood:
Morose