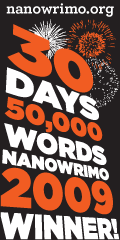 I cannot believe I actually pulled it off. Today I wrote over 8,000 words despite the fact that I had a full day at work and spent my lunch break rushing to and from the city to submit a piece for the Anthology. Delia is editing and I ran into her in the hallway. She said she had hoped I would be submitting something. I know it's silly, but that does kind of make me feel happy. I mean they're published writers who see hundreds of students every year, but they still take a personal interest in little old me. It's a boost I need at the moment since I'm beginning to suspect USyd does not want me despite my 3.3GPA and recommendations.

But yes, NaNoWriMo. It is a mess. The pacing is all over the place, especially now that I rushed it all in near the end. The ending is skeletal at best. But it's there. And that, after all, is the point of NaNoWriMo. It's not about quality, consistency, or anything like that, it's just about getting words down on paper and a story out of your brain and into the real world. I did that, all 50 906 words of it. So I'm quite proud of myself.

I was close to giving up quite a few times. The first week was by far the hardest for me, just trying to find the enthusiasm to start and watching everyone else's word counts rocket ahead. That's definitely not a mistake I'll be making again next year, staying far away from other people's counts. And yes, I'm fairly sure I'll be doing it again next year. It was also a bit of a struggle to get through words when my brain just felt so fried in a sort of uni/thesis induced hangover of sorts. Last week I didn't think there was any possible way I'd be able to finish cause Ii was just so far behind the recommended daily count, but Abbi insisted and so with a little faith from my friends, I pressed on. Yes, I left it to the last minute (finishing 20 minutes before midnight) but hey, that's how I do everything.

So I managed to achieve to goals for November - NaNoWriMo and a piece for the Anthology. It's not an entirely new piece, it's true, but I did spruce up one of my old ideas that I was rather fond of. Just to say I tried. It's all in the attempting. I don't want to look back one day, like I do with most things, and wish I'd just at least tried to particiapte in something. So this year I made an effort.

Now it's on to the next writing project, the reel challenge. Which is due in two weeks. Joy.

Meanwhile, I am flat broke and oh so much to do. Still have to pay my car registration, Oreo is going to the Vet tomorrow, petrol, movies, getting hair done next week, Christmas...hm. It's times like these that I want a full time job because I am looking forward to having my two week Christmas holiday but not so much going two weeks without pay. Sigh.
Work, while on the topic, was actually pretty hectic today. I ended up having to do end of month since the practice manager couldn't make it in. That's always fun *cough* The only thing that even vaguely amused me was all our ex-pat British patients wandering in and complaining about the "London weather." It was rather wet and miserable today, you can just see them all thinking they did not move halfway across the world to put up with this crap in summer. Made me smile at any rate.

Music: Peacemaker - Green Day
Mood: Thirsty