As much as popular music sometimes present challenges, it is also often a huge source of fun. In a throwback to ye olde days of music marketing, it was through radio that I got hooked on
Adam Lambert.
Ok, this is not strictly speaking true – he was on American Idol when Abbi was visiting and she got me straight into the cheer squad but, as much as I loved the kid, it was only hearing the songs on the radio that pushed me towards getting the album. One song in particular just put a bigger and bigger smile on my face every time I heard it. I am in love with it, as much as one can be in love with a song.
Anyway, I find my love of Glambert kind of amusing but I am powerless to resist and I don't see any reason why I shouldn't enjoy myself. So off to the Sydney stop of the Glamnation tour I went. I just have to say I'm glad they upgraded it to the Enmore Theatre – not only because this meant I actually managed to get a ticket, but I just don't see how that stage show would have fit on the Metro stage. I don't think I've ever been to a sell-out gig at the Enmore before (oh wait,
Florence + The Machine
but we were upstairs so it doesn't really count), the floor was packed and the place had such an amazing energy.
Weirdest crowd ever though. Seriously. What a strange, mixed bunch. There were a lot of girls running around in towering heels and short skirts. I just hope they didn't have any plans of hooking up with anyone as I'm fairly sure 90% of the guys in attendance were gay. Then there were the middle aged women like the really pushy two who stood beside me. Middle aged women are mean in a crowd. It proved a dilemma for me as I didn't want to be mean back and elbow them out of the way as I would a similarly pushy scene kid. They're mums people! The entire situation was just wrong.
Any old who, the actual gig was so much fun. Lots of dance-y pop songs played during the infernal waiting period which got the crowd buzzing. I caught myself thinking that if you threw in some more glitter, beads and naked people, it'd be Mardi Gras. It was all theatrical madness after that. It was so different to what I'm used to – Costume changes! Dancers! Staged melodrama! And it was
fabulous
. I still think there was slightly less eye make-up than at a classic
Panic! At The Disco
gig though.
Technically I suppose it should be described a pop show, but it's not really that simple. Adam has always been so unashamedly different, marching to the beat of his drum, and like him, his show is a proudly unconventional, vivid hybrid of elements.
The bastard child of Freddie Mercury and David Bowie, he was clearly born to be on a stage. He owns it with his own brand of confident flamboyance. There's something about him that reminds me of Gerard Way but I can't think about this for too long as I just end up imagining how much of a hobbit Gerard would look like if they stood next to each other. Anyway, the
MCR
fans must agree on some subconscious level – I saw plenty of them milling about.
Then there's the kid's voice. I mean seriously, it is fantastic. It held up beautifully for the hour-long set (which actually felt a lot shorter). But it's not all singing, making out and prancing about, there are also guitar solos that make it feel like you've stumbled straight into a 70s metal gig. Oh and lasers, mustn't forget the lasers. Even though it has nothing really to do with the show, I must also mention Adam's laugh – it is stupidly infectious and adorable. And you know, he really is quite gorgeous.
Random thought, perhaps its wrong of me to say so but if that bassist is straight (I don't for a minute pretend to be an expert on the intricacies of Team Lambert) he must do very well with the girls. What? They can't have Adam, by default he's the next best thing. He seems to be continuing the trend of tiny bassists – although Adam makes everyone look little, so I can't be sure.
Overall, it's a smoothly orchestrated spectacle backed by some genuine talent, and I loved every minute of it. For once, I didn't leave wanting to kidnap someone. Instead I want Adam to kidnap
me
so I can be part of this over the top circus and spend my days dusting everything in glitter.
Side note: It's really sort of insane how good gigs are for me, doesn't even matter what gig, I feel a thousand times lighter. Even with the risk of post-gig depression, it's still great for my sense of wellbeing. Confucius says, life without gigs is not worth living.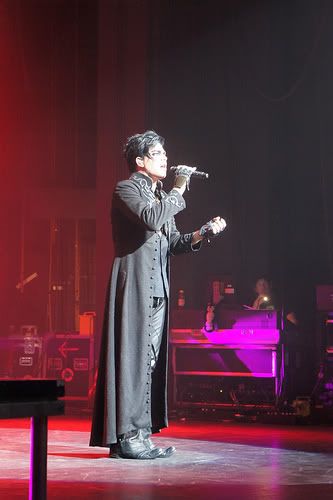 Swiped from
Pomegranate02
on Flickr
Both swiped from
The Music Network
Music:
The Queen of Lower Chelsea - The Gaslight Anthem
Mood:
Calm