Right, now that they've had me run halfway around the airport and back again, I will use this time productively to recap the last few days of my really excellent short adventure.
Um.
Ah forgive me, my brain is sluggish and overcome with humidity - if it's this hot inside this airport, I shudder to think what it's like inside. Whoa. I don't think I'll be visiting the tropics any time soon. Man. I've just had the fabulous experience of standing at the transfer desk for 30 minutes before being told that no, actually, I was right the first time and I have to go pick up my bag, clear customs and check back in before they can give me a Sydney Boarding pass. So off I trot hoping my bag is still on the belt (thankfully it was), dodging the crew who looked slightly perplexed by my haste, clearing customs except for some difficulty with the scary military lady asking why I didn't have an address in Thailand (I'm transferring. / You should go to the transfer desk. / No, I have to check in again. / *looks suspicious* etc etc) For those who've never been to the new Bangkok airport - it's such an odd building, it's all round and nest like and it has these travelators that incline in this hill like formation...oh I can't explain it, it's like big steps.
They're fine if you stand still, not so great when you have to be somewhere and you're trying to walk up them. I found it quite hard to drag my bag up them at any rate. I made it to the check-in desk just in time, and scored a ticket. Always a plus. Then I had to go back through customs. I know, it's crazy. But I have Thai stamps in my passport now, so yay?
It's a really unique airport though, all walkways and circular constructions and such. It has a garden too, but I didn't have time to check it out.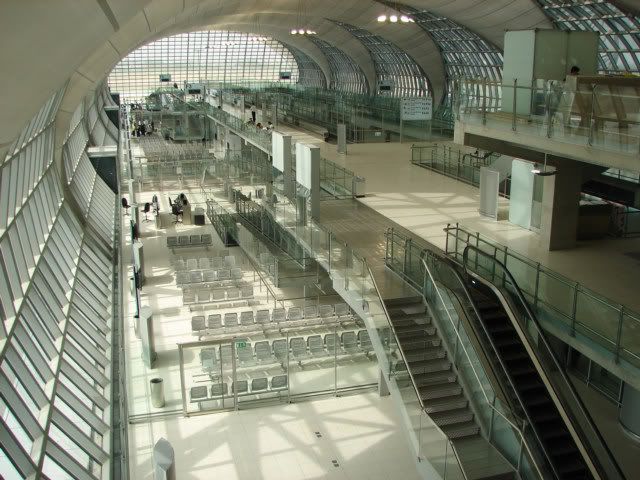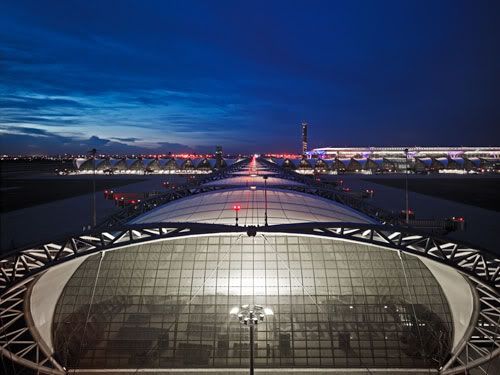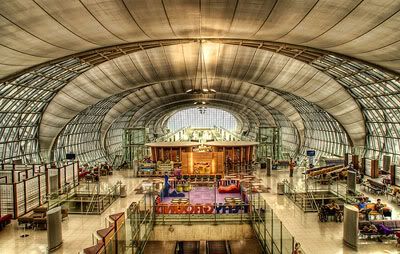 So then, to get back to things that were. Well, I packed some boxes and helped Abbi move? That's interesting, right? Actually I think I've redefined the boundaries of being a best friend - a friend will help you move, a good friend will help you move a body, a best friend will fly halfway around the world to help you do either. If this was twitter I'd tag that statement with 'delusions of grandeur' *chuckles to self* No, I had a fabulous time, and it's not like we had to move an entire house, so it's not bad. Plus I got to meet the infamous Paul and Frank, and they're both total sweethearts and brilliant. Brilliant, I say, in Ten's voice. Saturday night, Abbi and I set off to Waterloo to meet her friend Yvonne, before heading off to Wembley. Weeeembleeey! Sorry, I have to do it. It marked the third time I've seen Green Day, and once already on the 21st Century Breakdown tour, but the magic of it never dulls. I will go to my grave swearing there isn't a better live touring band out there at the moment. I've mentioned the gigs and what the band means to me many, many times so I'm not going to go on about it (also I don't have time, we should be boarding soon) but really - they're just
so good
. Billie Joe is so amazing, the way he has everyone doing exactly what he wants. He says stand up and 90,000 people are on their feet no questions asks. It is such a fantastic thing to witness. They did a lot of older songs, which is markedly different from the Aussie leg of this tour, but oh so fantastic. There simply isn't enough adjectives to describe it. The stage show is epic, with fireworks, massive screens, pyro and graffiti cannons; and of course the personalities are completely arresting. At the risk of sounding cliche, it's a rocking good time. I have to mention that Frank Turner and Joan Jett & The Blackhearts opened. There was some doubts regarding Joan Jett's performance, but I had absolute faith in the Queen of Rock n Roll. We have the entire back catalogue at home on records (whether they're my mum's or my dad's I don't know) so I've grown up on the stuff, and I was quite pleased to get the chance to see her live. She is so amazing. Scary, but amazing. So that was a definite win. The trek home, on the other hand, was not as much of a win - but I got to catch a night bus! Chalk up another experience, done and done.
Edit: You can catch Abbi's recount of the gig, plus photos, over
here
Sunday was the moving business, followed by a late pub lunch that took a lot longer than anyone anticipated due to the bar being run by one lone girl who seemed to be completely perplexed and overwhelmed by the amount of people in. Blame the World Cup. Actually, go NZ, their enthusiasm was so infectious, it's a shame they couldn't make it through. It would have been the
Cool Runnings
of soccer.
After that, I stumbled along on an overfull tube to Heathrow where I proceeded to sit about for an hour feeling cider sleepy and acquiring a boarding pass to Bangkok, with the fun possibility of being kicked off here. Luckily that hasn't happened, but I have been sent to the back of the plane again (where I belong, ahem). I actually got to sit upstairs flying over here! I've never flown upstairs before! It's not particularly great, things shake a lot more up there. And it's awkward holding up the pilot when you're standing in the aisle rummaging through the overhead compartment. But there's so much more room up there, all these little compartments everywhere that you can stash things in. I was sitting next to a lovely woman, a professor, which is always nice. Even if I was sleeping 6 out of the 10 hours. I bought 'The Girl With The Dragon Tattoo' at Heathrow, so I've started that. Another guy was reading it and so he struck up a conversation about it, though he's almost finished. I'm not overly impressed with it so far, but I've been told it's one of those that has a lot of set-up and once you get past that, it really rolls brilliantly. So here's hoping.
Actually, speaking of Heathrow, I did an epic amount of walking there, man that airport is big. The desk staff sent me to the wrong gate to get my full boarding pass (I didn't have a seat number or gate number on the one they gave me and yes I know the board tells you the gate number, but I made the mistake of trusting the staff) and I ended up at the BA flight to Sydney (via Singapore) instead of the Qantas flight (via Bangkok) - they freaked me out by telling me I wasn't listed, before we figured out I was given the wrong gate. The comforting words from the guy working at that desk? "You need to go to gate 18, it's about 16 miles that way, I'm not kidding." So with boarding starting in 10 minutes, and being told it's at least a 30 minute walk, I set off with an overfull bag and a nervous twitch. Made it in plenty of time though, good thing I'm a fast walker *shakes head*
Now I must digress and pack everything up - there appears to be movement at the gate. Onwards!
Music:
"The moving sidewalk is coming to an end" -
this
post sums it up really.
Mood:
Tired