This won't be anything new to those in the UK, but just recently I got my hands on the first two episodes of television show
Sherlock
. Created by Steven Moffat and Mark Gatiss, it is a contemporary update of Arthur Conan Doyle's Sherlock Holmes mysteries and stars Benedict Cumberbatch as Holmes and Martin Freeman as Watson.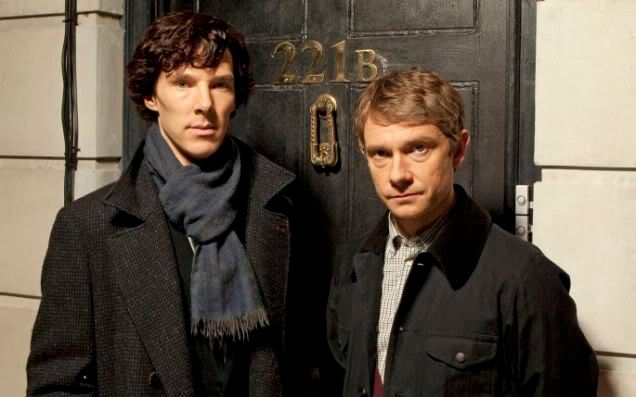 It is a three part series produced by Hartwood Films for BBC Wales, co-produced with WGBH Boston for its
Masterpiece
anthology series (America's longest running primetime drama series). It aired across three weeks in July and August, and was a critical smash. Happily, the BBC has commissioned a second series.
This show is the greatest thing to enter my life in the last year. It is
brilliant
. Fantastic. Wonderful. I don't have enough adjectives! Everything about it is made of absolutely epic WIN. The stories are brilliantly adapted to a modern context –I loved, for example, how in
A Study in Pink
Holmes makes the call that an alcoholic person's phone always has scratches around the charger connection, the same way he made the call with the scratches around a pocket watch in the original. It is subtle and masterfully executed, and the relationship between Holmes and Watson is nothing short of brilliant. It is funny, charming and just captivating television that had me jumping out of my skin with glee while I watched. I am enthralled.
I admit I was sceptical to start, if only because I just love the Jude Law/Robert Downey Jr
Sherlock Holmes
film so much (and there are things like that Asylum Holmes tale out there), but this is such an entirely different breed of Holmes story and it didn't matter at all. I think it's fair to say that I am a bit of an ACD fangirl, and that fangirl is so very, very pleased with
Sherlock
. The adaptation to modern context is done so cleverly and, while I am not a film student, I think it's just shot so well. I particularly love what they've done with the wider shots of London, there's something in them that just gives a subtle sense of dissonance.
The acting is so wonderful as well – I know I'm overusing adjectives, but it really is! Benedict Cumberbatch is pitch perfect as Holmes, completely captivating and beautifully aloof. I also love Martin Freeman's Watson, perfectly capturing the sense of the character. They are so perfect and inhabit the characters so well, it's really no wonder that the relationship comes across so brilliantly.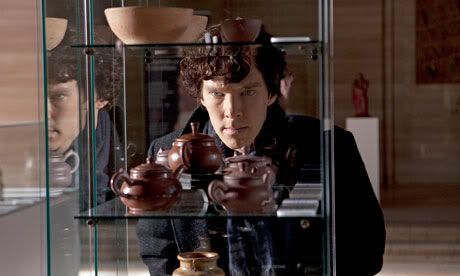 I'm not a psychopath, I'm a high functioning sociopath; do your research!
So yeah, I'm a fan. A
big
fan. I deeply thank the creators for putting this spark of brilliance into my life. Now if only there were more episodes...
Music:
I've just seen a face - The Beatles
Mood:
Content